Dec 2022 Indoor Racing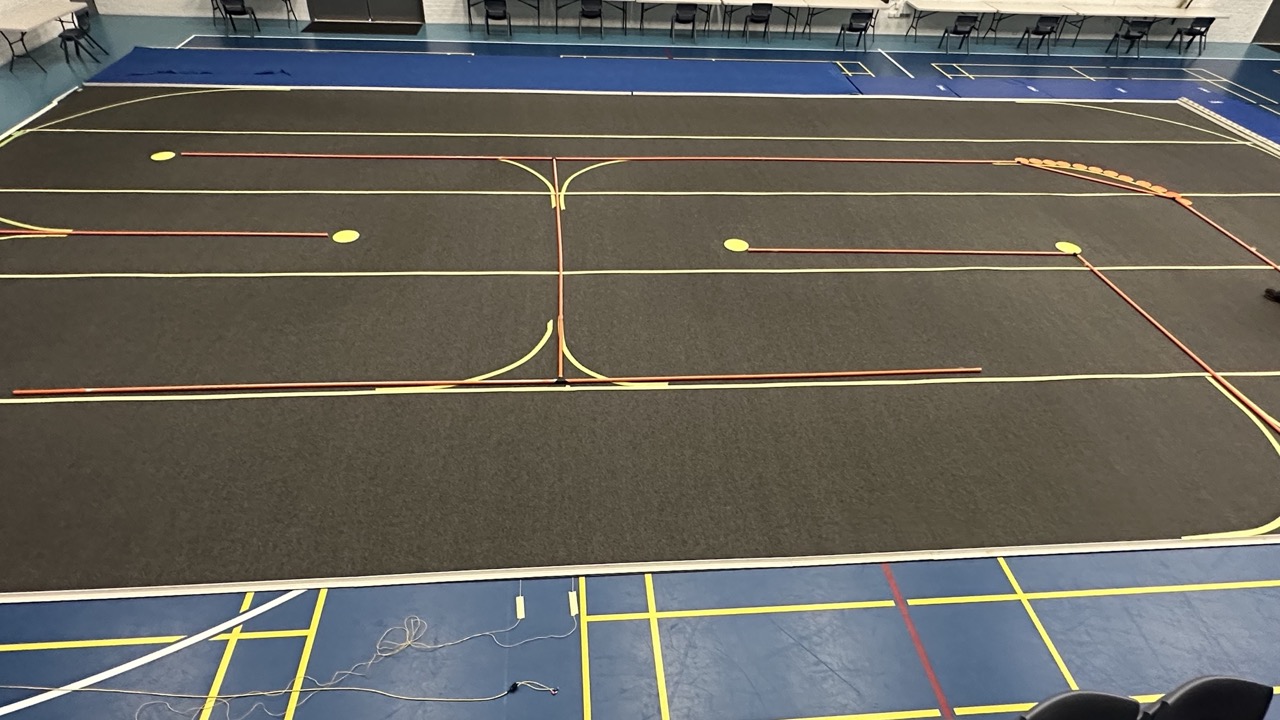 We're bringin' carpet back, YEAH!
With the Australian National championships out of the way and club racing coming to a close at Kambah, we have had some time to get some carpet racing up and running again.
The club ran its first Indoor meet for two years with our last event being the successful "Carpet Burn" series held all the way back in 2020. For those who don't know, we have our own carpet now which means that we can race in any hall around Canberra. The "AusBite" carpet has a little more side bite than our old ETS carpet and is a major improvement in consistency and overall smoothness compare to the carpet squares we used at EPIC. Rubber tyres are amazing on any touring car or F1 and most foam tyres are suitable for our 1/12th classes. Just find the the right combination for you!
The format of this meet saw the comeback of the TT02 class with Chris crushing his first laps since the lock downs with some exciting door to door racing with Mark and Alex "Downtown" B. Throughout the day Nathan, Adam and some other celebrity guests took turns at driving the Downtown Racing Nissan GTR.
ISTC 21.5 was the first class to lay down some fast laps in anger! Alex I was screaming around the track with his National Championship winning Yokomo, Alex layed down some solid lap times with his average being in the 8.5sec range. Darryl and Adam were knocking on the door with many lap times averaging in the 8.9's and 8.8's respectively. Alex was pulled away early with a real car problem which left Darryl taking the last race from Adam in a bumper to bumper race, with only "comeback curse" mistakes separating them.
LMP13.5 saw our biggest field on the track with up to eight cars battling it out on our tight but forgiving track layout. Dan, Nathan, Alex B, Mark, Dean, Darryl and Gerard enjoyed the racing with the field at times only being covered by a blanket. The drivers of this class were on the limit, cutting a little under 1500 laps between them. The hot lap screamer was owned by Nathan with a 7.176 but only .03 behind him was Dan, who was Mr Consistent today taking out the class with Mark slotting in at second with Nathan rounding out our top three after some technical setbacks.
GT12 was the most anticipated class for club members past and present. These 21.5 powered 1S beasts are the launching pad for the 1/12th pan car journey. Alex B was untouchable, with Dan trying to use every centimetre of the track to find a way past his 168mm GT12 rear end. Alex did not buckle under the 120+ laps of pressure over the three finals and took out his maiden carpet event with the "clockwork" consistent Dan wheeling only 0.335 behind in A3 to second place and Gerard rolling in for third. Many have asked what gearing or tyres would be best place to start, most of us were around the 85mm mark and were using a soft tyre on the rear and a medium or hard on the front (depending on how much steering you like).
We would like to thank all who setup and amazingly packed up the carpet (finished in 20ish minutes!) We're all now looking forward to the 2023 "Magic Carpet" series (January-June).
Click here for race results and lap times